It wouldn't be an exaggeration to say that CBD hemp oil has become one of the biggest things in cannabis. Many people have turned to CBD oil benefits in order to help them—and their pets—better manage wellness, and there's simply no easier way to consume this cannabinoid than in the form of a convenient oil.
What is CBD Oil?
CBD oil is made by mixing CBD extract with an oil base, such as MCT or grapeseed oil. You may also find CBD in the form of a 'Tincture,' meaning that the CBD extract has been dissolved in alcohol. Tinctures are generally favored for their quick onset and long shelf life, whereas an oil-based method is favored for being cost effective and better tasting.
CBD oil can be extracted from either CBD-rich cannabis flower or hemp. CBD hemp oil is the same as cannabis-derived CBD oil and can be trusted to produce the same effects and benefits. At the end of the day, the only significant difference between CBD oil and CBD hemp oil is the type of plant that the base extracts are derived from.
How to Use CBD Oil
There are two ways to use CBD oil or tincture: by swallowing it or applying it sublingually.
To apply the oil or tincture sublingually, just load the dropper and squirt the liquid under your tongue. Let it sit under your tongue for a bit (up to five minutes) before swallowing. This will allow the contents of the oil to be absorbed through the mucous membranes under the tongue. Then, swish the remaining liquid around your mouth and swallow it.
You can also just load up the dropper and swallow its contents directly. This will allow the oil to be processed through the stomach, similar to how an edible would be digested. Some people prefer to add the oil to other foods and liquids like yogurt or pudding in order to dilute the taste and make it more flavorful.
How Does CBD Make You Feel?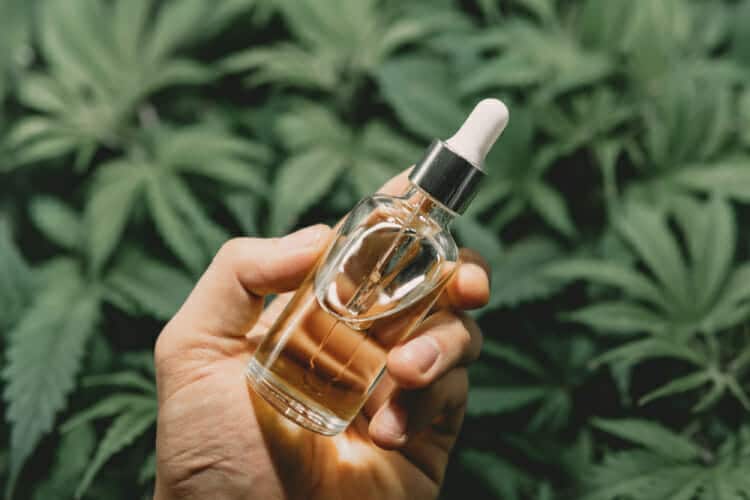 There are many potential CBD oil benefits and uses as a therapeutic agent.
CBD is non-psychoactive, meaning there's no "high," but many people find that it produces a calming and relaxing sensation. Research indicates that it may work to reduce anxiety and anxious behavior. In turn, these relaxing effects may sometimes help anxious people fall asleep easier.
CBD has also been found to have several other potential benefits. For example, researchers have shown that it can help reduce seizures among patients suffering from certain types of epileptic conditions.
It is also believed that CBD can reduce inflammation. In recent years, numerous athletes have begun turning to CBD to ease joint and muscle inflammation, as well as pain relief.
CBD's calming effects may also make it beneficial in reducing cravings and helping people in recovery from substance abuse. For example, one study found that dosing with CBD was able to reduce the number of cigarettes consumed by smokers.
CBD Oil for Your Pet
You're not the only member of your household who gets to benefit from the benefits of CBD. Available in the form of a tincture or solid treat, CBD may help pets reduce anxiety, provide joint relief, and even boost appetite.
Want to make your pet even more cuddly? CBD has the potential benefit of improving both canine and feline fur and skin health!
CBD Oil at Cloud Cannabis
We carry Vive CBD oil for pets in both dog-specific formulations for Fido and cat-friendly formulations for Fluffy.
Looking to try out some CBD oil for yourself or your pet? Drop by one of our dispensaries today or check out our online menu to shop an exceptional selection of CBD products, including CBD oils.