Are you ready for Tuesday, April 20th? In case you've forgotten, this otherwise unremarkable day happens to be 420: The biggest date on the cannabis calendar! And to help make it one to remember, we're offering 5-days-worth of BOGO 420 deals on some of the best and most exciting cannabis products in our stores!
History of 420
Why 420? 
There are countless legends about the origin of the expression, but the most authoritative one centers on a crew of unruly high schoolers in 1970s Marin County. "420" was their code to kick back after class with their favorite herbal relaxant. After they wrapped up classes at San Rafael High School, they'd go to a designated spot to enjoy a session at 4:20 PM. 
Incredibly, 420 caught on and blossomed to become what it is today: An internationally recognized cannabis holiday!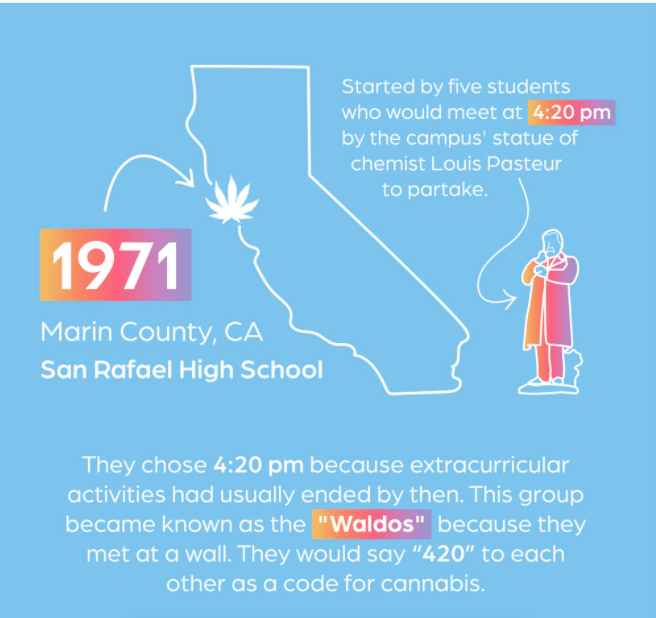 420 Deals: 5 Days of  BOGOs
With that mystery solved, we're sure you're wondering about those special 420 deals. We share them in detail below, but take note that most of the deals actually occur before 420. So come by early and often for some truly stupendous savings this entire week!
Psst: Want a hot tip? If you want to be the first to know about upcoming offers and special events, make sure to sign up for our newsletter to get amazing deals like these delivered straight to your inbox. We've got something up our sleeves you won't want to miss!
Each day leading up to 420, Cloud is offering "Buy One, Get One for a Penny" deals on some of our most exceptional cannabis offerings. Here's the rundown.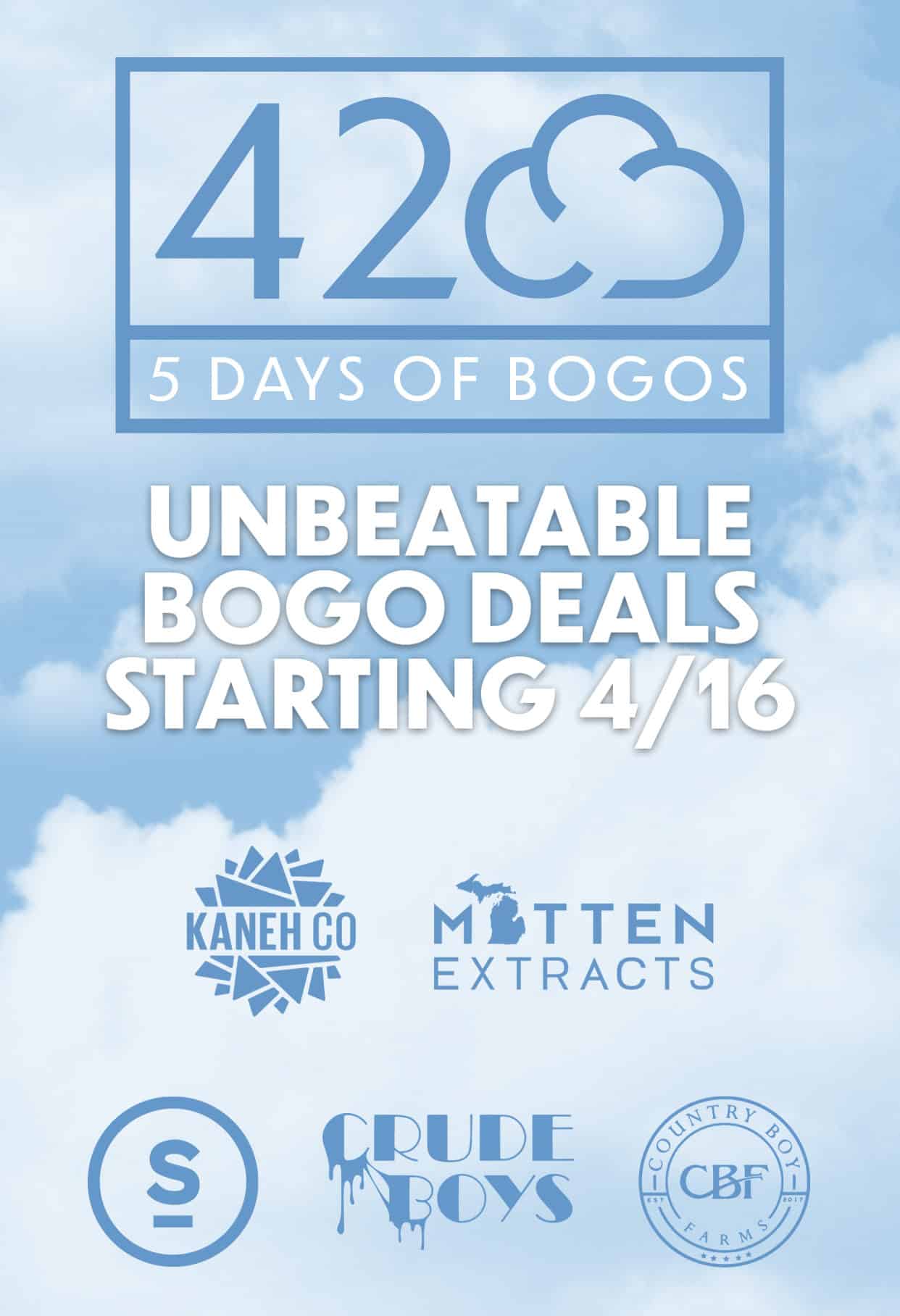 Friday, April 16: Kaneh
This beloved bakery makes a wide variety of irresistible cannabis-infused treats. Choose from such flavors as Triple-chocolate brownies, Red velvet cookies, S'Mores brownies, and more, then add a second flavor for a penny more.
Saturday, April 17: Select
Known for their stringent standards and exceptional purity, Select offers vaporizer cartridges in such popular strains as Durban Poison, Granddaddy Purple, Super Silver Haze, and many, many more. Choose one and grab a Choice or North Cannabis pre-roll for a penny.
Sunday, April 18: Crude Boy Tarantulas
If you've never tried these unusual pre-rolls, you're in for a real treat! Combining premium flower, terpene-infused cannabis oil, and a dusting of dry-sifted kief for extra potency and flavor. Buy one, get the second for only a penny more.
Monday, April 19: Mitten Extracts
Handcrafted here in Michigan, Mitten focuses on producing concentrates that allow the highest expression of select strains, including Gelato #33, Tropicanna Cookies, and MAC. Buy a one-gram cartridge, get one for just a penny more.
Tuesday, April 20: Country Boy Extracts 
For this most special day in the cannabis world, we're throwing the spotlight on Country Boy Extracts, a family-owned company of proud Michiganders who've been working the land for generations. 
We're big fans of their sugars: Creamy and crystallized concentrates that deliver unbelievable flavor in a very compact package. Available in such popular strains as Gorilla Punch, Mint Chocolate Truffle, and Chem's Cookies, we're offering a second one-gram jar for a penny when you buy the first at full price.
Pick your menu to get shopping, or stop in.